Recipe Blog
If reading The Taster makes you hungry, you're not alone. Join author Jonathan Hickman at The Taster Online as he shares recipes for making all the delicious foods that Timothy Blanchard samples in the book.
About the Author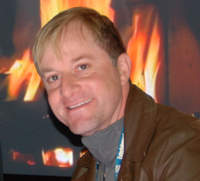 Struggling with dyslexia and learning disabilities, Jonathan W. Hickman grew up watching movies and learning to read. Movies taught him the classics, but he was introduced to literature by his father who read to him often primarily concentrating on the works of Steinbeck and Hemingway. Still, both Jonathan and his father considered Edgar Rice Burroughs' "Tarzan of the Apes" to be their favorite novel, just call it a guilty pleasure.

By high school, Jonathan had learned to read well enough to complete comic books and to skim larger works of fiction. He found text books and non-fiction to be easier to manage given their layout and devoured them staying up all night before an exam to digest every word of text. Eventually, he graduated as valedictorian and went onto college at Mercer University in Macon, Georgia, where he achieved degrees in English and Political Science.

After attending law school at the University of Memphis, Jonathan returned home to Newnan, Georgia, where he practiced law privately for eight years. In 1998, he joined the movie and entertainment related web magazine Entertainment Insiders (on the web at www.einsiders.com) later becoming the company President and Editor. While teaching business law for 3 years at a local University, he constantly encouraged his students to read and often used classic works of literature in classroom examples. He now serves as the Public Defender for the State Court of Coweta County. Jonathan lives in Georgia with his wife and daughter. While Jonathan was writing THE TASTER, his daughter would rather chew on "Tarzan" than listen to her father read it to her.

While vacationing and eating a large amount of disgustingly delicious Mexican fast food, Jonathan typed out the first chapter of THE TASTER. He knew that what he was eating at the time was no damn good for him and agonized over the long-term consequences. But what if there were no consequences, he asked himself, what if he could eat anything and not worry about his health? Thus, THE TASTER was born out of the fires of hot sauce and one tasty gordita. Influenced by food security concerns following the 911 attacks, Jonathan decided to place his hero in the role of a super human taster, a person who samples food at high-level government events to determine whether it is safe. But every good hero must have the perfect foil and in the world of THE TASTER, a super poisonist threatens.
Next Up for Jonathan...
The Poisonist
Fiction - Mystery

Timothy Blanchard, the super-sized, super-talented, food security specialist for the FBI, is back in this exciting sequel to Jonathan Hickman's The Taster. In a world of corruption and wickedness, a world where your next meal may be your last, only Timothy can taste the difference between what you can eat and what will kill you. The book starts with a meal and a murder. A whirlwind of meals and murders follow. It's enough to make you ravenously hungry and keep you furiously turning pages.